NC WOLAN
North Carolina Women Of the Land Agricultural Network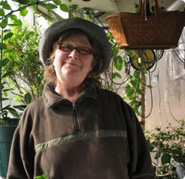 Learn from other Women of Agriculture
NC WOLAN is a grassroots organization, building on the experience and know-how from veteran female farmers willing to share their stories, their successes and failures, with women just beginning their careers in Agriculture. In central North Carolina alone, there are well over 1000 farms where you find women as the principal operators. This is an enormous resource that needs to be tapped and nurtured for new and beginning female farmers.
Genesis Farm Educational Foundation

--Our Mission and Vision

The mission of the NC Women of the Land Agricultural Network is to further agricultural and small farm life for female farmers and ranchers, other women of agriculture and young girls through education, awareness, support, outreach and service; and to respect Nature in a safe and sustainable environment.

Our vision is to create the educational and support network needed to increase the quantity of small farms in North Carolina owned by women and committed to an ethic of stewardship for small-scale farming. NC WOLAN hopes to accomplish this through far-reaching educational and networking opportunities to beginning and veteran female farmers and other women of agriculture in North Carolina.
At A Glance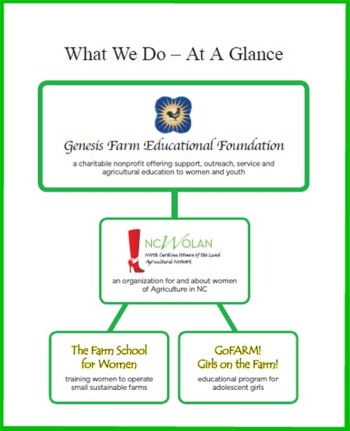 In The Media
NEWS & OBSERVER: NEWS &OBSERVER
GRIT Rural American Know-How: GRIT
Acres USA - A Voice for Eco-Agriculture ACRES USA The November, 2012, issue of Acres USA, The Voice of Eco-Agriculture, has published a timely article about the Farm School for Women. It's cool to be cited in national publications, and a big thank you goes to Anita Stone, the author. Ms. Stone also writes about The Farm School in Athol, MA, founded by Ben Holmes in the early 90s. Ben's Farm School is the prototype for The Farm School for Women, and I thank Ben for all his insight, support and willingness to share his knowledge and experience to get us up and running.