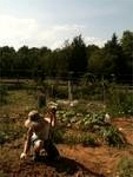 A Farm Training Program Unique for Women
The Farm School for Women is a small farm-training program designed specifically for women who, through knowledge and experience, value their connection to the land, have a passion for sustainable agriculture and are committed to the values of small scale farming. Students can expect introductory but intense class and fieldwork in many aspects of agriculture and discussions leading to extensive on-farm learning and working the land.
It is a curriculum based on agricultural educational programs that includes fields of study offering practical farm training: from setting goals to business planning to nurturing crops and livestock to harvesting, marketing and homesteading. Our goal is to train new and beginning female farmers in the art and skill of working the land and bringing products to market successfully.
more...
We believe in total immersion on the farm. All students live on the farm and participate in all classes offered. Taught by a topnotch faculty of experts including veteran farmers, cooperative extension personnel and university professors, the school offers a structured curriculum of seminars, on-farm workshops, field trips, specialty farming and independent projects.
In addition, students are required to create a business plan; organize and sell the produce they grow at a local Farmers' Market, and give back to their community through education and outreach. A trademark of the program is mentoring -- working with a niche farmer to further the student's education (for example: cheese making). Our program also provides support and a rich learning environment for each graduate so that she can be confident in her capabilities to enter the growing field of small-scale farming and sustainable agriculture.
less...
The Farm Setting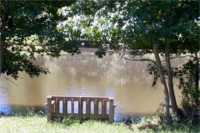 The Farm School for Women is located on Genesis Farm, a twenty-acre market and educational farm located in Orange County, near Chapel Hill, NC. The farm includes open pasture, gardens, woods and a 1 1/2 acre pond overlooking the pastures. The farm is teeming with wildlife as well as domestic animals. It is a rural landscape, yet we are only seven miles from the flagship campus of the University of North Carolina.
Farm Visit
We encourage farm visits from prospective students. Some experience in a farming situation is helpful, but we give priority to those who express a desire and commitment to sustainable agriculture and who want to experience life on a small farm.
For more information, please contact:
Dr. TD Matheny, Director
Genesis Farm
1841 Jo Mac Rd
Chapel Hill, NC 27516